GIVING YOUR BRAND THE AUTHENTIC LOOK IT NEEDS
Creativity is at the heart of what we do and we encourage it throughout every project we work on.
Creating a conversion driven, simply beautiful and fully unique website is what we provide to every single one of our clients. Each business serves a different audience and has a different purpose, your site should reflect this.

Our design and development team work to create websites and designs that stand out from the crowd while understanding exactly how your site should be created so it is able to engage with your audience while making the conversion process simple and flawless.
WE WORK TO BUILD LIFE & INSPIRATION INTO DESIGN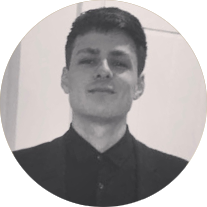 Kane Cameron

Head of Creative, Digital Strategist
By far my favourite project that I've ever worked on is the current Video on Demand OTT platform we're developing for the Wall of Entertainment.
I am rolling out the strategic marketing strategies that will make the platform succeed and gain revenue. Overseeing the entire platform infrastructure and working alongside Vimeo. This will be live very soon and you've see nothing like it.
UNDERSTANDING DESIGN
DEFINITION
Web design encompasses many different skills and disciplines in the production and maintenance of websites. The different areas of web design include web graphic design; interface design; authoring, including standardised code and proprietary software & user experience design.
PROBLEM
Having a clunky, poorly designed site is bad for all elements of your business. not only will it be hard for customers to use but it can be heavily detrimental to how search engines will rank your site also
SOLUTION
A custom built site that works exactly as it should. Built on a secure foundation of clean, fast code that allows your site to reach its full potential. We design sites to suit the needs of your business. With designers who are at the forefront of new trends in design, we are constantly updating the way we build sites for conversions. Working with us means you have a tram of designers and developers on your side who adopt your vision and create you a stunning site t hat represents your brand and that you can be proud of
BRANDING
Design today is so much more than having something stand out, something that catches your eye. The eyes of the consumer are very much used to things trying to grab its attention and it is becoming harder and harder to do so.
This is where we come in…
We create iconic and memorable brands. Being consistent and coherent as a brand is far more important in todays world. Everything you create whether that be a website, a logo, a newsletter, an animated video, a new social post or even a physical brochure, it should all represent who you are as a brand.
We focus to work with companies to either re energise or create from scratch, a brand that is recognisable and distinctive. One that is memorable and leaves a clear and concise idea of who you are in the mind of your ideal audience.
CREATIVE DESIGN
At our heart, we are a creative agency. Creativity should be at the centre of all marketing since it is creativity that helps to solve problems, create new ideas and makes for a unique way of presenting things to the world.
Our designers are constantly finding new ways of working with brands and businesses to create designs that mean something. Designs that clearly get a message across while also promoting your brand in a clever and creative way.
We work on all different platforms to create designs in all different mediums., from video animation to web design and logo's to newsletters.
When creating something new, we make sure to bring life and creativity into your design work, so it isn't just another brick in the wall.